AuntiE
Loc: 46th Least Free State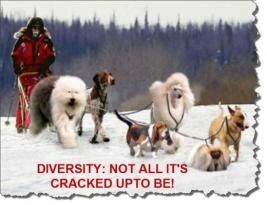 Peaver Bogart
Loc: Montana
AuntiE wrote:





Good one AuntiE. When my son was about 10, we had a Basset Hound that would pull my son around in the wintertime on his skis.
AuntiE wrote:



Many people sing the "diversity is our strength" song ..... with diversity referring to intersectional and cultural bull shiite.
No one speaks to factual reasons for how that is true, beyond splendid pictures on the corporate interweb site or annual report. Lots of emotion, no meat.
My experience working for multinational corporations based in the USA and abroad is that real value comes from diversity in education and work experience.
What do you know and what do you do, period.
If you want to reply, then
register here
. Registration is free and your account is created instantly, so you can post right away.