Flintstones Vitamins Now Available With Puberty Blockers...(Satire from The Babylon Bee)

Oldsailor65
Loc: Iowa
Flintstones Vitamins Now Available With Puberty Blockers
(Satire from The Babylon Bee)
WHIPPANY, NJ—Bayer AG, the multinational pharmaceutical corporation, has announced a brand new line of trans-friendly Flintstones vitamins laced with puberty-blocking hormones. To help normalize early childhood transition, the vitamins will be on sale over the counter without restriction.
"Yes, zis seems all very ethical," said Bayer CEO Hans Von Himmler while stroking his pet cat-pig hybrid. "Ve simply give ze little girl-child ze hormones, and then ze beard grows. Ve always on ze right side of history."
Flintstones vitamins' new girl-to-boy chewables will be made of anabolic steroids with vitamins and delicious fruit flavors added in. The vitamins will be completely organic and hormone-free-- except, of course, for the synthetic hormones which are the active ingredient.
Some politicians expressed alarm at the thought of giving synthetic hormones to young children, but they quickly fell silent after Bayer threatened to pull campaign donations and business from their states.
https://babylonbee.com/news/flintstones-vitamins-now-available-with-puberty-blockers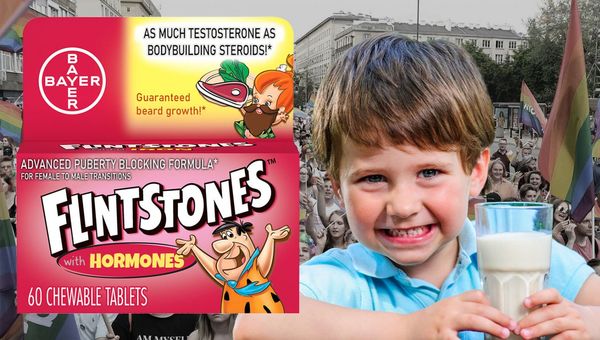 Oldsailor65 wrote:
While this is satire from one of the best sites for satire, the truth is that the Democrats want this concept to be part of the plan for American children and they will do what ever they can to make it law.
Oldsailor65 wrote:
There will be routine distribution of these vitamins among students in grade schools across America. "We can't care enough about our children" said one School Board member...
😁
If you want to reply, then
register here
. Registration is free and your account is created instantly, so you can post right away.