ACP45
Loc: Rhode Island
Thanks to Tom Woods :
https://mailchi.mp/tomwoods/floridaopening?e=63c138c1cb
The crazies who thrive on bad news and panic just got smashed good and hard.
Opponents of Ron DeSantis, governor of Florida, have called him "DeathSantis" because he decided against locking everyone in their homes.
They kept up their stupidity in response to the Trump rally in Sanford two and a half weeks ago that DeSantis attended. As I noted yesterday, this alleged "superspreader" event was followed, two and a half weeks later, by a continuing decline in deaths.
On September 26 DeSantis moved Florida to Phase 3 of reopening, which essentially means normal life.
Oh, the crazies went nuts over that.
Some of them are trying to stoke panic even now. Including CNN, evidently.
But the numbers don't lie.
The heroic Dr. Scott Atlas just posted the following charts on Twitter (click on each chart if you'd like to increase its size).
First, here are COVID-19 hospitalization rates by age and month. The first section is for ages 0-44, the second for 45-64, and the third for 65+. The percentages for each group come down pretty consistently, as you can see: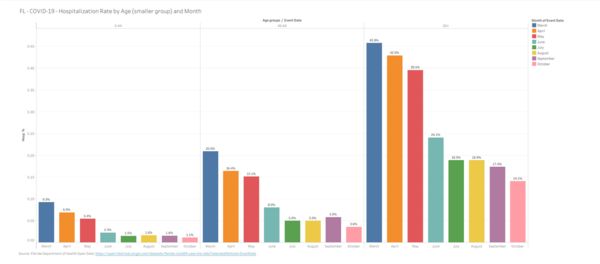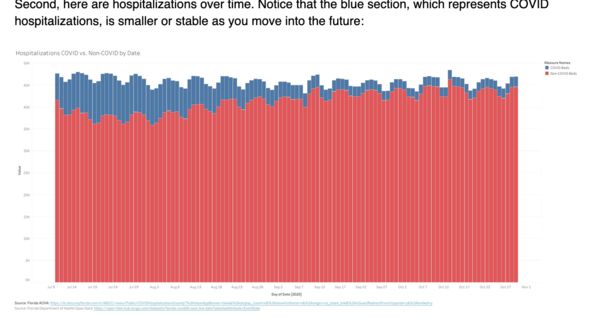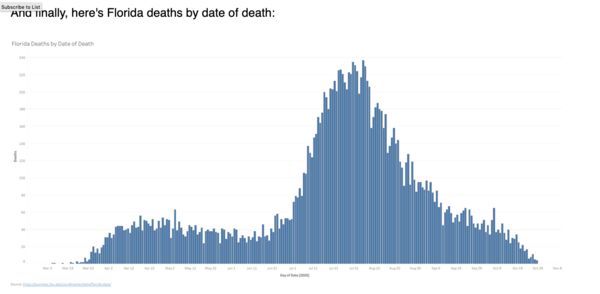 If you want to reply, then
register here
. Registration is free and your account is created instantly, so you can post right away.