Parky60
Loc: People's Republic of Illinois
Each year, the NFL hosts a fundraising campaign called "My Cause, My Cleats," in which the league permits and encourages players to come up with a design on their footwear that shows support for a charity of their choosing. Usually, players use it to raise awareness for fundraisers that help breast cancer survivors or that prevent sex trafficking, but one player used his design to support abortion clinics.

New England Patriots running back Damien Harris plastered the "Planned Parenthood" logo on one of his shoes and the message "Her Body, Her Choice" on the other. While he was inactive for his team's 24-10 defeat against the Buffalo Bills last night, he will still get a chance to wear them in next week's game against the Arizona Cardinals.

Harris' choice is even more discouraging when you consider that he has a Bible verse in his Twitter bio. If Harris is indeed a Christian, he should know that he can't be both a follower of Jesus and an abortion supporter.

To clarify, the "My Cause, My Cleats" initiative is largely used to bring attention to organizations that help people, not kill defenseless, innocent babies. Plus, Planned Parenthood isn't in any need of financial assistance, as it already has four clinics in Massachusetts that are adequately funded by taxpayer dollars.

Of all the organizations out there, Planned Parenthood is the last one Harris should have picked. But then again, what would you expect from an entitled superstar in the most woke sports league in America?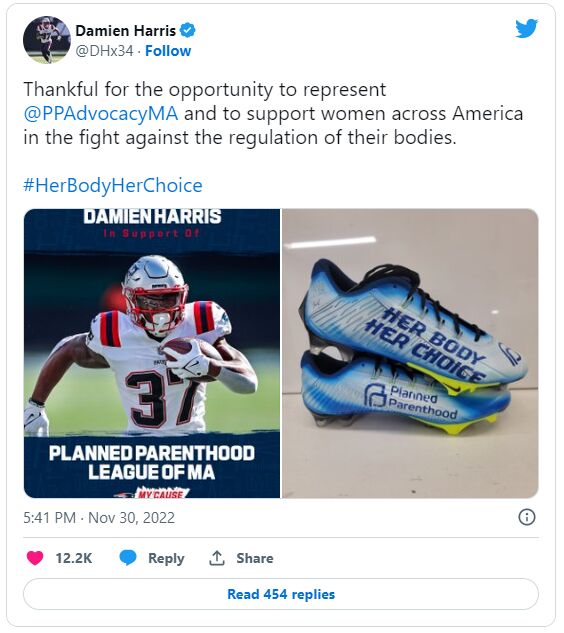 Canuckus Deploracus
Loc: North of the wall
Parky60 wrote:
How many baby mommas does he have???
Parky60 wrote:
If one of us did things like these athletes do on our employer's time we'd be fired
If you want to reply, then
register here
. Registration is free and your account is created instantly, so you can post right away.