Parky60
Loc: People's Republic of Illinois
Sometimes in politics, when Americans have serious problems that they want solved, politicians can be doing something but it looks to the public like they're doing nothing, or they can do nothing but it looks like they're doing something. Biden is unique in that it looks like he's doing nothing because he actually is doing nothing.

Michael Goodwin at the New York Post describes Biden with the union term, "retiring in place," meaning people who won't quit because they like the pay and position, but they just stop doing any work.

And that I think Biden's poll trajectory shows just how obvious that's becoming to the majority of Americans.

His poll numbers are like a limbo contest: just when you think the bar can't get any lower, it does and he somehow manages to go under it. The new Civiqs poll shows Biden at his lowest approval rating yet: 32%, with 57% disapproving. Among Independents who swing elections, he's at 20% approval, 67% disapproval. His approval ratings are dismal nationwide, even in blue states. In fact, there are only two states where his approval is higher than his disapproval – Hawaii and Vermont – but his approval rating in both is still under 50%.

Another poll, the I&I/TIPP poll, found that Americans aren't buying Biden's excuse that Putin is to blame for inflation ("Putin's Price Hike" is the hashtag they hope will trend on Twitter, but it won't, except among people mocking it.) Americans believe Biden's policies are to blame by 64-25%. Even Democrats believe that by 53-39%.

Nick Arama at Redstate.com has a graph below, created, surprisingly, by CBS's "Face The Nation." It shows that inflation began rising the moment Biden took office, it exploded with the signing of the Democrats' big-spending "American Rescue Plan," and virtually all of the increase occurred before Russia invaded Ukraine.

And Gallup finds that only 14% of Americans rate economic conditions as good, compared to 46% who say they're poor. That's a net rating of -32, the lowest in any midterm election year. At the same point in Trump's term, the ratings were 51% good, 13% poor, for a net +38. That's a 70-point gap between Trump and Biden. US satisfaction is also the lowest of any midterm year at a puny 16%.

Is it any wonder why Democrats are desperate to convince you that the biggest problems facing America are a four-hour riot that happened a year and a half ago and that Trump still can't believe that Americans actually voted for Joe Biden? It sounds from these polls as if a lot of Americans who voted for Joe Biden can't believe they voted for Joe Biden.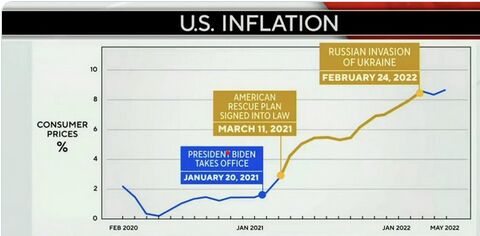 If you want to reply, then
register here
. Registration is free and your account is created instantly, so you can post right away.