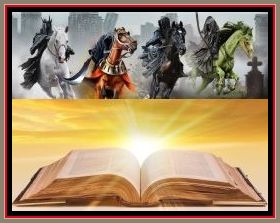 Zemirah
Loc: Sojourner En Route...
"Watch out for those dogs, those evildoers, those mutilators of the flesh." Philippians 3:2

Paul warned against certain false teachers who were posing as Christians, who went about attempting to realign peoples' faith to center upon external worldly "religious" duties, and away from God and His revealed Word of instruction.

This is a warning about the menace of external religion - religion that is designed for external show - to make men appear godly before their fellow men. What is it that destroys rejoicing in the Lord? It's dwelling on external circumstances as being the important thing. It's failing to listen to the indwelling Holy Spirit, - becoming diverted by earthly concerns, and destroying your spirit's rejoicing in the worship of God.

John 4:23–24: "The hour is coming, and is now here, when the true worshipers will worship the Father in spirit and truth, for the Father is seeking such people to worship him. God is Spirit, and those who worship him must worship in spirit and truth."

The terms Paul used to describe the men who sought to overturn his ministry are bold and blunt, because in matters of this importance the apostle Paul never minced words. He called them three things: "dogs, evil-doers, mutilators." The reference to dogs is not to the pampered, shampooed, manicured pets we have today. These were not cultured canines. These were the snarling, half-wild curs found on the streets of the city. They can still be found today.

The term "dogs" is a term of reproach used by both Jew and Gentile. Because of that on which the dogs fed, they were regarded as unclean animals. They fed on the refuse in the streets, the garbage: decayed meat, and rotten vegetables that had been discarded.

What Paul is referring to, however, is the group of obsessed men who continually hounded him wherever he went, following his footsteps, trying to upset the newly converted fledgling Christians by placing unnecessary demands upon them. These men were usually called "Judaizers," as they were men who taught that it was necessary to return to and abide by the cumbersome traditions of men from which the Lord Jesus had come to make men free.

They ordered believers in Jesus to observe not only the law of Moses and the food restrictions of the Mosaic Covenant, but the hundreds of man-made rules imposed since by the Sanhedren through the years, and especially to be circumcised (as were the Jews) - in order to be a "real" Christian, insisting that these things had not been done away with in Christ.

Unfortunately, such people are still with us. Paul says, like dogs that fed upon garbage, they were feeding on the garbage of "carnal" ordinances. They were holding up as necessary, rituals which once were of value, but now had decayed, had become over-ripe and useless, fit only to be thrown out because they had been replaced by God's grace.

They were evil-workers because of their zeal. They were tirelessly seeking to convert young believers to their views, to bring them back under the bondage of legalistic restrictions. They gloried in this activity as a mark of their claim on the blessing of God.

The way they thought of it, God had to bless them because of their ancestry, and because of their zealotry, - being so devoted to their "work."

You can easily see that these people are still with us today, in the tireless, zealous workers who go about from door to door with books under their arms, anxious to convert anyone to a legalistic religious system in order to pacify the demands of their cultish authoritative overseers. Again, these are reminiscent of the man made traditions that were imposed upon Judaism, which Jesus came to abolish, while He completely and successfully fulfilled God's authentic commandments.

The dictatorial Hierarchy above those organizations like Catholics, Mormons and Jehovah's Witnesses, who added a multiplicity pf their own rules and regulations, giving them an exalted position over and above the Bible, and have a highly visible external structure in order to be seen by men, as they feverishly try to place men back into the heavy bondage of futilely striving for salvation through their own merit, rather than through faith in Jesus' completed work.

Their leadership has no concept of, or they refuse to understand that God's grace, received through faith in Jesus' payment of their sin debt (via His death and resurrection), has replaced for all time and made moot the feverish "works" of prideful men who still seek to achieve their own Salvation through their own effort, and to impose that burden on all those "followers" whom they manage to ensnare.

The authorities and teachers within such super-organizations of false religiosity are exactly the kind of people to whom Paul is referring.

All of this kind of teaching has a strong appeal to carnal human thinking because of its great show of piety and devotion. All of humanity. at one time or another, has sensed the lure of this kind of appeal, the conviction that an ornate, solemn ritual done in a self-righteous religious manner, has to be worthy of some earned merit before God. The earnest, sincere endeavor of a tireless worker is deeply self-satisfying.

It is so gratifying to the religious ego to perform some solemn external ritual, and to be constantly busy at religious work, or even to disparage the flesh in some way, perhaps with a distinctive garb or an identifying posture.

The standard by which they judge the success of their worship is in the physical thrills and chills they experience. All of this, Paul says, is the enemy of true spirituality.

It destroys the spirit of rejoicing, and it makes of religion an empty, barren mockery centered on men rather than upon God. It puts the emphasis on the external, and removes it from the vital interior genuine aspects of faith.

Grace, God's unearned, unmerited favor, is counter-intuitive to the world's system. Are we learning to serve God and others out of gratitude and worship, rejoicing as He does His work in and through us?

Believers in Jesus are totally dependent on the power of the indwelling Holy Spirit to live the Christian life.

Ephesians 3:20-21 summarizes this truth: "

20 Now all glory to God, who is able, through his mighty power at work within us, to accomplish infinitely more than we might ask or think.
21 Glory to Him in the church and in Christ Jesus through all generations forever and ever! Amen.
Zemirah wrote:
Amen & Amen! From Bahmer & I. I miss my buddy, but Heaven wouldn't be Heaven if they had to watch us muck things up. But then again, they may be watching intently right now and rooting and praying for us. Still haven't figured that one out yet. Are we asleep or awake and in Heaven? I'll have to be patient a little longer. I'll know one day, we all will.
Texas is doing its thing, the 40s at night and 70s & 80s during the day, and expecting a thunderstorm in a day or two. Have any baby critters shown up in the backyard yet, for your viewing pleasure and entertainment?
Be well my friend and hope you have a nice new doctor now. I'm doing well and staying out of trouble. Went to the gym and I was pitiful. Walked a mile and it almost killed me, but I made it. Sore for three days. Tell your kids to buy some silver if they have some spare change. It's supposed to jump to 5 to 10k an oz., it's still at @25.00 now, after the reset it will find its new level. The NWO and Wall Street were keeping it depressed because it was used in so many things the Corporation of the USA, Central Bankers, and NWO owns.
Biden or whoever is playing him should be gone sometime in April. Supreme Court Justice Sonia Sotomayor was hung at GITMO last week. Evil is being eliminated globally. Hurt children and you die. Ukraine is where the NWO launders all its money and it's the main hub for human trafficking. With the bio-labs destroyed Fauci is planning on retiring now. That's all the worldly news, I have for now.
Breaking news: The Pakistan Premiere's own party is revolting against him. They don't want him skipping away with his loot. Something other leaders have done. Maybe Modi has convinced them of what's about to happen. Backchannels and all that Sun Tzu stuff. The NWO is toast. No money left to bribe people with.
This site says it's for entertainment purposes only. Really it's accurate news for us Q followers or Anons. The censors and hackers have tried to take it down many times, but they can't. They have their own servers and are now on the Space Force satellite system. When different places go offline those cities and areas are being added to the space-linked system. It keeps the swamp guessing. It's more time-consuming but it's effective. Otherwise, our reset would be done by now. They sure hate to lose their slaves.
https://realrawnews.com/2022/03/military-tribunal-sentences-sonia-sotomayor-to-death/
Ester and Purim encoded. You might find this interesting.
https://youtu.be/gzaJZ0bGe0s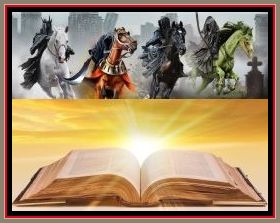 Zemirah
Loc: Sojourner En Route...
Hi Peewee,
Sorry to have delayed commenting on your folksy message. I've had good intentions for days.
I'm sure bahmer is now gloriously content. As much as we may miss him, he has now seen God face to face.
This is a family birthday month: the first week was my son-in-laws, then my oldest granddaughter, last weekend, and last, my son's birthday, yesterday...
Choosing a gift(s), then riding herd on the delivery to ensure it arrives on the proper day is increasingly difficult, as the chain of delivery appears to be upside down and backward for all the delivery companies.
I believe we will be able to see what is going on upon the earth... but because we will be in heaven, we can't possibly be blinded by grief. Heaven would not be heaven if there is grief. We will be able to see and understand more clearly there.
The saints beheaded during the Tribulation can obviously see what is taking place on earth, as they are said to cry out to God, "How long must we wait for vengeance upon the earth")(?) (Revelation 6:9-11). They are also in possession of some sort of temporary body, as they receive white robes... There is no inference these aren't literal robes, - and there must be shoulders over which to drape those robes.
They can't look like Casper, if the robe slides to the floor.
Not until Revelation 20:4, are these beheaded Tribulation saints found back on earth, where they are said to be blessed as they are the first resurrection (now in their glorified eternal resurrection bodies), and will reign with Christ, for 1,000 years.
We have believers who died in Christ and will be resurrected at the time of the rapture (1 Thessalonians 4:16-17), and finally the resurrection of tribulation martyrs (Rev. 20:4) and Old Testament saints (Daniel 12:2) at the time of the 2nd Coming. They are all part of the first resurrection.
I've never followed Q or Anon, and unless they have a substantiating chapter and verse on which to anchor their reports, I wouldn't believe a word of it.
Because you were able to get to the gym and walk a mile, there is most assuredly hope for you... No pain, no gain.
I've really seen no animals yet, and I'm not sure springtime is actually upon us, although there are yellow daffodils up and blooming in the back and side yards.
A pair of House Wrens have built a nest in the light hanging over the front door, so I don't turn it on or off, - they have no chicks yet, - am using the lights on either side of the garage at night, rather than disturb them. (Photo below).
Ignore the delivery packages outside the door.
Peewee wrote: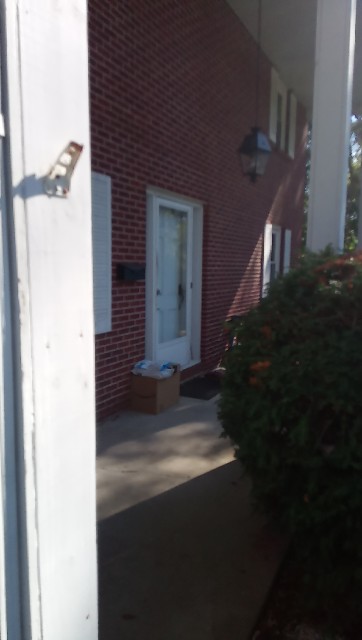 If you want to reply, then
register here
. Registration is free and your account is created instantly, so you can post right away.