Psalm 91 – We shall abide under the shadow of the almighty.
Psalm 91 – We shall abide under the shadow of the almighty.
Researched by Pastor Gary Boyd

Many of us do not want to believe or comprehend the gravity of the situation of judgment upon mankind. Like turtles, we would prefer to tuck in our heads and legs and let the storm pass over us. Unfortunately, this judgment-storm is going to disrupt our lives. Psalm 91 confirms that these catastrophes which shall befall the world of mankind, will not remain unknown to you. You will live to behold them all, but you will witness them only as an observer. It further instructs us in verses 8 and 9, that these calamities that occur in the history of the nations and that their evil prepares for its ruin.

You, the believer in Jesus Christ, will peer and behold the destruction of the wicked who spurned God and refused to sit in the refuge of the Most High, but they will be helpless to harm you.

Psalm 91 King James Version (KJV)

91 - He that dwelleth in the secret place of the most High shall abide under the shadow of the Almighty. I will say of the Lord, He is my refuge and my fortress: my God; in him will I trust. Surely he shall deliver thee from the snare of the fowler, and from the noisome pestilence. He shall cover thee with his feathers, and under his wings shalt thou trust: his truth shall be thy shield and buckler.Thou shalt not be afraid for the terror by night; nor for the arrow that flieth by day; Nor for the pestilence that walketh in darkness; nor for the destruction that wasteth at noonday. A thousand shall fall at thy side, and ten thousand at thy right hand; but it shall not come nigh thee. Only with thine eyes shalt thou behold and see the reward of the wicked. Because thou hast made the Lord, which is my refuge, even the most High, thy habitation; there shall no evil befall thee, neither shall any plague come nigh thy dwelling. For he shall give his angels charge over thee, to keep thee in all thy ways. They shall bear thee up in their hands, lest thou dash thy foot against a stone. Thou shalt tread upon the lion and adder: the young lion and the dragon shalt thou trample under feet. Because he hath set his love upon me, therefore will I deliver him: I will set him on high, because he hath known my name. He shall call upon me, and I will answer him: I will be with him in trouble; I will deliver him, and honor him. With long life will I satisfy him, and shew him my salvation.

As Christians, you have made Jesus your foundation and your support of all your earthly existence. And this Foundation upon which you have placed all your life on earth will afford you protection from all trouble and hurt.

At the rapture we are spirited off to heaven to be with Jesus receiving our rewards for our tasks done for him on this earthly plain. He promised a mansion for all who believed, kept his commandments, developed our God given talents, and spread the gospel of his coming. The Bride of Christ, the Lamb's wife is a term used in reference to a group of related verses in the Bible, in the Gospels, Revelation, the Epistles and related verses in the Old Testament. The bride is implied by calling Jesus a bridegroom. For over 1500 years, the Church was identified as the bride betrothed to Christ.

Revelation 19:7 New International Version (NIV)

Let us rejoice and be glad and give him glory. For the wedding of the Lamb has come and his bride has made herself ready.

Look up then dear brothers and sisters in Christ for your redeemer is drawing near as these end of days comes to its conclusion. Remember: the Gate of Repentance is always open!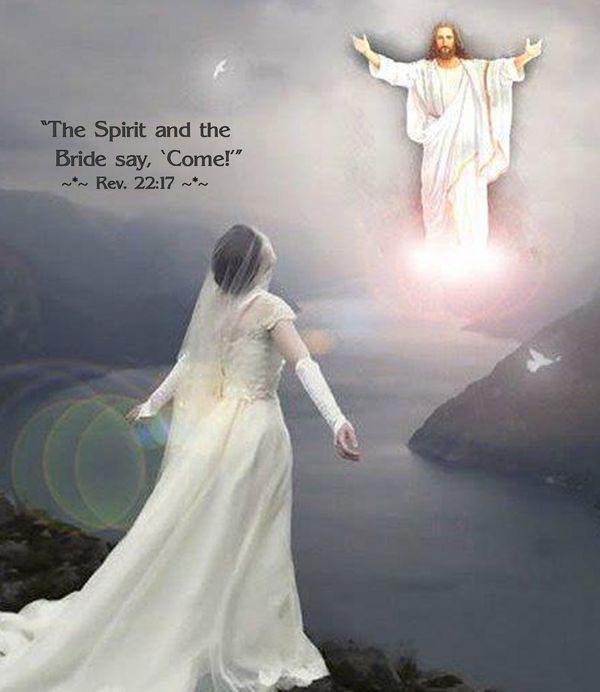 If you want to reply, then
register here
. Registration is free and your account is created instantly, so you can post right away.