Devout Muslims Throw Gasoline Bombs at Christian Shops Just Before Trial of Coptic Christian Accused of Blasphemy Against Islam
The Muslims who did this are supporters of the Obama-backed Muslim Brotherhood, which Obama tried to strong-arm the Egyptians into returning to power. The wholesale persecution of non-Muslims in Muslim societies on his watch, while he glad-handed the oppressors and said nothing about the persecution, will go down in history as one of the many, many blots on his feckless post-American presidency.

coptic_christians_egypt_reuters

"Islamists Torch Christians' Shops in South Egypt," Associated Press, June 2, 2014:

A security official in Egypt says a mob of angry Islamists has burned shops owned by Coptic Christians near the ancient city of Luxor hours before a trial for a Coptic Christian accused of blasphemy.

The official says the attack early Monday saw Islamists throw gasoline bombs at the shops in the village of el-Mahameed near Luxor. The official says authorities are investigating the attack.

The attack came hours before the start of a trial in Luxor for Kerolos Ghattas, a young Coptic Christian charged with contempt to Islam over a series of alleged Internet postings.

The official spoke on condition of anonymity because he was not authorized to speak to journalists.

Christians make up about 10 percent of Egypt's population.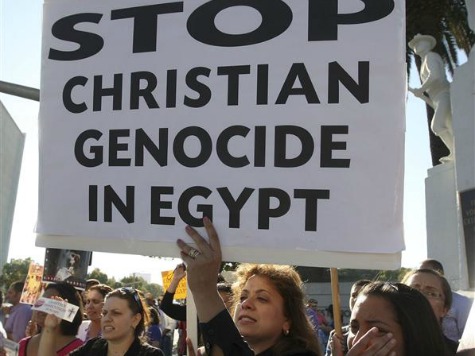 If you want to reply, then
register here
. Registration is free and your account is created instantly, so you can post right away.