AuntiE
Loc: 46th Least Free State
NATIONAL SHRIMP SCAMPI DAY

National Shrimp Scampi Day is observed annually on April 29th.  On this day, we honor the delicious dish of shrimp cooked with butter, garlic, lemon juice and white wine.

A culinary term for small lobster known as Nephrops (also known as langoustine or Dublin Bay Prawns) which is completely unrelated to this day.

National Shrimp Scampi Day is wholly dedicated to the buttery, garlicky, lemony and wine-sauced preparation of shrimp.

HOW TO OBSERVE
Enjoy this 
Shrimp Scampi recipe.

If you are using frozen raw shrimp, defrost them quickly and safely by putting the shrimp in a large bowl of lightly salted ice water (1 1/2 teaspoons of salt for every quart of water).
We cook the shrimp scampi in butter and olive oil so we can cook at a relatively high heat without burning the butter but still impart the butter flavor.

INGREDIENTS
* 1 pound large (16-20 count) raw shrimp, shelled* and de-veined, (if you want, keep the tail on for an attractive presentation)
* 2 Tbsp olive oil
* 2-3 Tbsp butter
* Salt
* 3-4 garlic cloves, slivered, or 1 Tbsp minced garlic
* 1/4 to 1/2 teaspoon red pepper flakes (less or more to taste)
* 1/2 cup white wine (I recommend a dry white wine such as a Sauvignon Blanc)
* 2 tablespoons finely chopped parsley
* Freshly ground black pepper to taste
* 1 Tbsp lemon juice
* Shell on? or Shell off? It's really up to you. Shrimp cooked shell on are more flavorful because the shells infuse more flavor into the shrimp while they cook. But, shell-on is fussier to eat. If you remove the shells before cooking the shrimp, you can save them for making shellfish stock.

METHOD
1 Sauté garlic, red pepper flakes, in butter and olive oil: Heat a sauté pan on high heat then reduce to medium high heat. Swirl the butter and olive oil into the pan. After the butter melts it will foam up a bit then subside. If using unsalted butter, sprinkle a little salt in the pan. Stir in the slivered garlic and red pepper flakes.

2 Add shrimp and wine: Sauté the garlic for just a minute, until it begins to brown at the edges, then add the shrimp.
Add the wine and stir to coat the shrimp with the sauce of butter, oil, and wine.
Move the shrimp so they are in an even layer in the pan. Increase the heat to high and boil the wine for two to three minutes.

3 Turn shrimp over to cook on the other side: Stir the shrimp and arrange them so that you turn them over to cook on the other side. Continue to cook on high heat for another minute.

4 Toss with parsley, lemon juice, pepper: Remove the pan from the heat. Sprinkle the shrimp with parsley, lemon juice, and black pepper, and toss to combine.

Serve as is, or with crusty bread, over pasta, or over rice (for gluten-free version).


Use #NationalShrimpScampiDay to post on social media.

HISTORY
Within our research, we were unable to identify the creator of National Shrimp Scampi Day.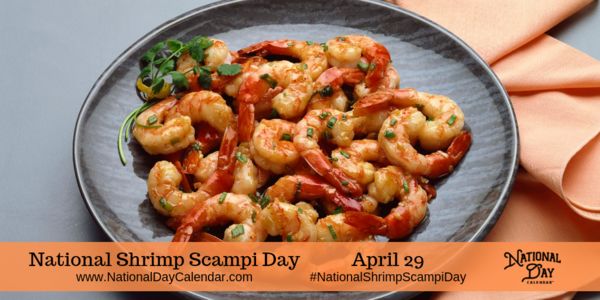 slatten49
Loc: Lake Whitney, Texas
AuntiE wrote:
So, young lady, when is dinner served

I like shrimp and will take it anyway you wan'na fix it.

AuntiE wrote:
Yum-yum! I love shrimp, popcorn, butterfly, coconut, you name it, except for shrimp cocktail sauce.



If you want to reply, then
register here
. Registration is free and your account is created instantly, so you can post right away.