AuntiE
Loc: 46th Least Free State
INGREDIENTS

1 Tbsp. plus 1 tsp. extra-virgin Olive oil
1 large Garlic clove-minced
1 large Shallot or 1/2 small Red Onion-minced
3 medium red,yellow,green ,orange bell peppers or a mix-finely diced
2 tsps. finely chopped fresh oregano
Kosher salt,freshly ground black pepper
2/3 cup whole wheat Couscous
Lemon wedges-for serving

METHOD

1 ) Heat Olive oil in medium saucepan over medium heat ; add garlic,
shallots,cook ,stirring frequently,until fragrant,approx. 2 mins.
Add 2/3 cup water,bell peppers,oregano,1 tsp. salt ,pepper to taste,bring
to boil over high heat,cook until peppers just begin to soften 2-3 mins.
Stir in couscous ,immediately cover, remove from heat.Let stand ,covered,
until liquid absorbed,couscous tender,approx. 7 mins.

2 ) Transfer to platter or large bowl,serve with lemon wedges.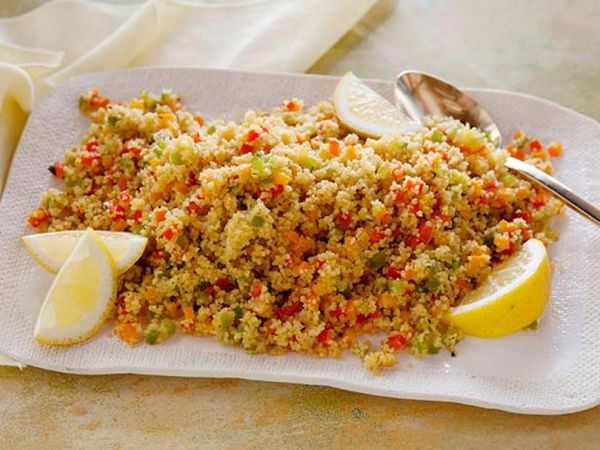 AuntiE wrote:
Looks great
You know what would be killer in there? Saffron...oh and shrimp Lol
If you want to reply, then
register here
. Registration is free and your account is created instantly, so you can post right away.