karpenter
Loc: Headin' Fer Da Hills !!
That's My Christmas Present
I've Been Using It About 3 Wks Now
This Is An Unusual Piece Of Equipment

It's Not Exactly As Fool Proof As Claimed
But It's Pretty Good So Far

I've Been Using As Much Charcoal
As I Think Should Do The Job
And Had A Lot Of Trouble Controlling The Temp After A Couple Of Hours
Wrong-O

Using The Recommended Lump Variety Fuel
You Fill It To The Top Of The First Fire Ring
About 8#, Or Half A Large Bag In Mine

So I Took My Starter Chimney
Turned It Up-Side Down
Loaded It With About Ten Briquettes, As Usual
Got Them Fired And Poured Them In The Center Mass

Once The Egg Came Up To Temp
I Put In My Roast
Controlled The Temp Easily For The 3hr Cook

When The Roast Was Done
I Closed It Off To Kill The Fire
I Wanted To See How Much Fuel Had Been Used
This Was A 3hr Cook At 275

It Hardly Burned More
Than The Ten Briquettes I Used To Fire It
Equivalent Of Maybe 16

This Is What Mine Looks Like: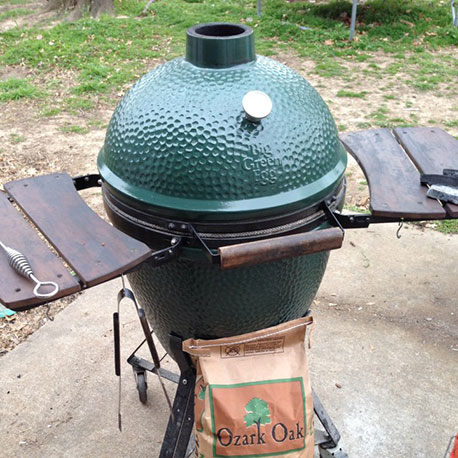 I grew up using those in the 70's, my dad was in the air force and they did what they referred to as Hibachi runs to Japan. He was flying C-124's, they would literally have them full of Hibachi pots, everyone was picking them up for everyone they knew. The Yen conversion was so good that they cost about $6.00 each.

These things will cook the wickedest pork chops on the planet, use about 8/10 briquettes and they'll cook for half an hour to maybe 45 minutes, learn to cook slow with it and you can cut those pork chops with a fork.

karpenter
Loc: Headin' Fer Da Hills !!
I'm Going To Try Kingsford Blue Bag Charcoal
The Recommendation Is A Full Firebox Of Lump

I Used About 14 Briquettes
And The Last Of My Lump Stores
It Got Plenty Hot, 400 Degrees
I Don't Like Loading It Full-Up Every Time
Just To Grill Some Kabobs

Lump Isn't My Favorite Thing
Supermarkets Are Carrying 20# Bags
This Time Of Year
But Only 8# Bags Of Standard Briquettes
So The Stuff Must Be Popular
If you want to reply, then
register here
. Registration is free and your account is created instantly, so you can post right away.